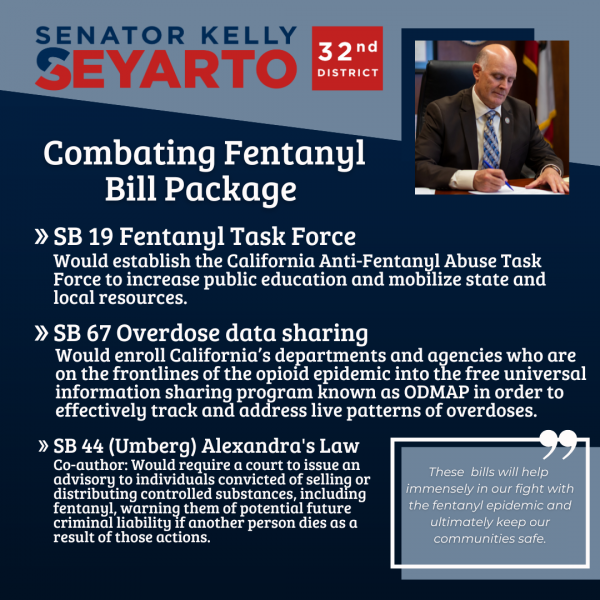 Summary
SB-19 establishes the Anti-Fentanyl Abuse Task Force to collect and organize data on the nature and extent of fentanyl abuse in California and evaluate best practices in combatting fentanyl abuse.
Background
Under existing law, fentanyl is regulated under the Uniform Controlled Substances Act as a schedule II drug carrying the second highest penalties for possession or for intent to sell. Unlike other drugs, fentanyl's potency and affordability has led to a spike in its use which has correlated with an increase in overdoses and drug related deaths across the state.

In 2020 alone, California experienced just shy of 4,000 deaths related to fentanyl overdose which is over 2/3rds of all opioid overdoses in the state. Fentanyl abuse marks a new third wave of opioid abuse nationwide and its effects are seen in almost every county in California in the form of preventable overdose deaths. Fentanyl is used by drug traffickers to create fake street drugs which are laced with fentanyl. In 2021 fentanyl overdose became recognized as the leading cause of death of Americans aged 18 to 45.

While California has made strides in decreasing overall opioid prescriptions and prescription opioid abuse, the rise of illicit fentanyl has added a new nexus to the drug epidemic. Easily producible and 100 times more potent than morphine, the rise in fentanyl related overdoses requires a careful evaluation of the structure used for combating drug abuse in California.
Proposal
The scourge of fentanyl overdoses is a trend which requires holistic and creative approaches and coordination between state and local agencies. Current approaches to responding to the drug epidemic are statistically ineffective in addressing the rise in fentanyl overdoses. The Anti-Fentanyl Abuse Task Force will assemble data, individuals, and identify the resources necessary to respond to this new form of synthetic opioid abuse.

SB-19 is the way to preserve the lives of Californians struggling with drug abuse and uphold public safety by combatting the fentanyl epidemic.