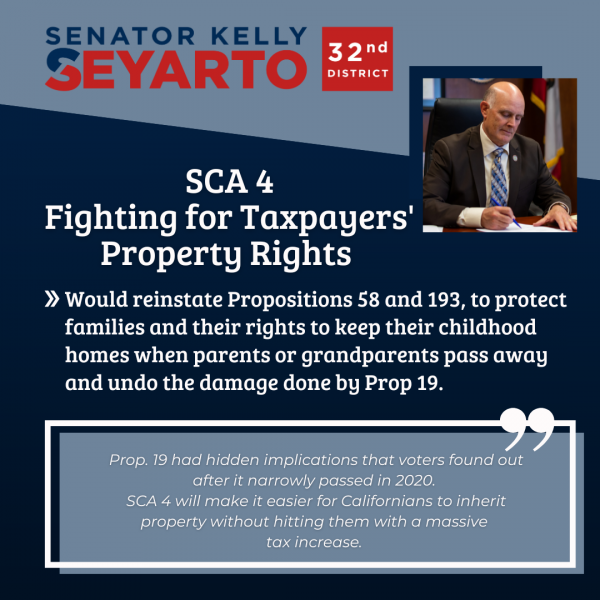 Summary
SCA 4 would allow voters to reinstate Proposition 58 (1986) and Proposition 193 (1996), restoring the protections for families to keep their childhood homes when their parents or grandparents pass away.
Background
Prop. 19, the largest change to California's property tax system since Proposition 13, passed very narrowly after a costly ad campaign that emphasized its benefits for seniors, wildfire victims and disabled homeowners while completely avoiding the issue of the effect on intergenerational transfers.
The passage of Prop 19 limited the transfer of family homes, under their Prop 13 tax base, to the capped value of one million dollars as long as the family member moves in and holds the house as primary residence for the remainder of their life. This cap effectively limited a vast majority of property and land inheritances in California and ensured that almost every home passed onto a child from a deceased parent would be unaffordable due to its reevaluation of assessed value.
As voters discover these provisions that requires the reassessment to market value of properties transferred within families – with only limited exceptions – anger is growing. When asked directly and clearly, California voters have said they do not want the tax code to force families to sell the properties they have worked so hard to acquire. Prop. 58 passed in 1986 with 75.7% of the vote after being placed on the ballot by a unanimous vote of the Legislature. Prop. 193, extending the same protections to grandparents and grandchildren when the children's parents are deceased, was approved in 1996 with the support of 67.3% of voters.
Proposal
SCA 4 would allow voters to reinstate Proposition 58 and Proposition 193, restoring what was recently taken away through the hidden provisions in Prop 19: the constitutional exclusion from reassessment when certain property is transferred between parents and children or grandparents and grandchildren.
Voters must be given the opportunity to reinstate Prop. 58 and Prop. 193. It is crucial to save countless family businesses and homes that otherwise will have to be sold because of unaffordable tax bills.